So....have you guys heard of the is guy, Fedor Emelianenko?
Yeah, he's kind of a big deal.
If you've been living under a rock, Fedor is a MMA fighter. In fact, he's (arguably) one of the top heavyweight fighters in the world.
Here's a partial list of the fighters Fedor had taken down:
Heath Herring
Antonio Nogueria
Mark Coleman
Mirko "Cro Cop"
Matt Lindland
Hong-Man Choi
Tim Sylvia
Andre Arlovski
Fedor is an amazing and exciting fighter to watch. (more after the jump)
It's my prediction that he'll be particularly exciting to watch this Saturday on Showtime as he faces off with Dan Henderson. After two consecutive losses, he's got to prove he's still the man.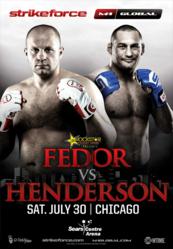 Fedor's always had a strong work ethic and utilized proven old-school training methods like sledgehammers and kettlebells.
This old-school, hardcore work ethics is what attracts sponsors like Dragon Door (a company this blog is affiliated with).
"This is an ideal fit for our team," writes John Du Cane, Founder and CEO of Dragon Door . "A great believer himself in kettlebells, Fedor embodies strength and power, and that's what our company has been all about for the past 20 years -- no gimmicks or fads, only hard work and training that builds resilience, strength and power."
I think Fedor will be winning this Saturday. With a new sponsor and a new sense that he must regain his former status as "Baddest Man on the Planet", Fedor will be a tough guy to beat. I just don't think its going to be Henderson's day.
What do you guys think?
Train Hard,
Josh Skinner